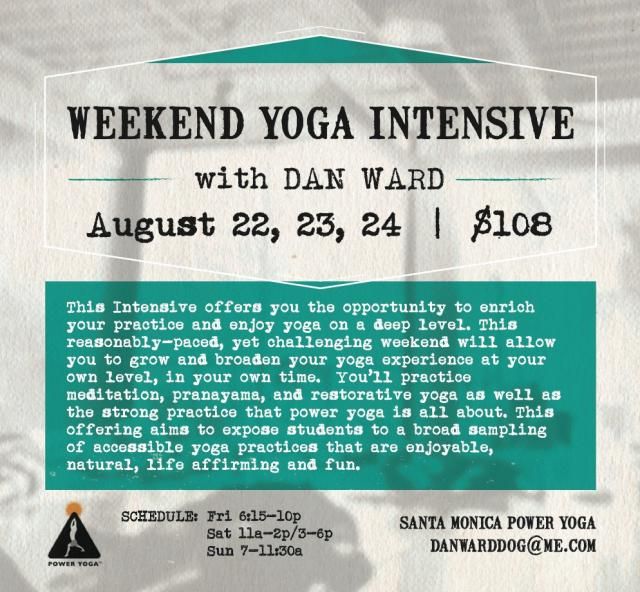 HEY ALL,
I'VE STARTED 3 NEW WEEKLY CLASSES AT THE DANCE HOME NOW CALLED POWER YOGA EAST. IT'S THE OLD SCHOOL YOGA ROOM WHERE I REALLY FOUND MY PRACTICE WAY BACK IN 1995. IT'S AN AMAZING HONOR TO TEACH THERE.
THE CLASS TIMES ARE EVERY MONDAY/WEDNESDAY/FRIDAY AT 430PM
AS FOR OTHER UPDATES: MY 3RD 200 HOUR TEACHER TRAINING IS GOING REALLY WELL. I LOVE THIS FORMAT WHERE CURIOUS YOGIS CAN DEEPEN THEIR PRACTICE AND GET A HAND UP IN THE WORLD OF SHARING YOGA. THE NEXT TEACHER TRAINING STARTS JANUARY 2015.
A WAY TO GET A FEELING FOR TEACHER TRAINING IS TO TAKE MY WEEKEND INTENSIVE. THE NEXT ONE IS GOING TO TAKE PLACE AUGUST 22,23,24
LASTLY, I'M SUBBING SOME CLASSES FOR BRYAN WHILE HE'S GONE FOR THE REST OF THE SUMMER. I'LL BE STEPPING IN FOR HIM AT 10:45AM FRIDAYS AND 4PM SUNDAYS THROUGH AUGUST.
KEEP PRACTICING!!